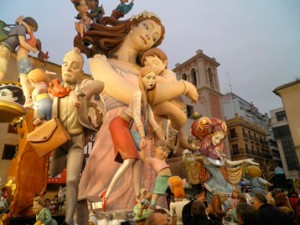 In curricular terms, Arts Education is commonly related to these arts subjects: visual arts (painting, drawing and sculpture), performing arts (music, drama and dance), media arts (photography, film, video and computer animation); crafts and architecture. Intangible Cultural Heritage (ICH) is generally related to traditional expressions of folklore relevant for the cultural identity of a nation, a community or a specific group of the population.
Nevertheless, ICH can be reflected in arts subjects such as the visual arts, performing arts and crafts. The transmission of traditional and cultural expressions embedding collective values for communities represent can be reinforced by formal channels of education such as schools.
For instance, the papier-mâché statutes are the iconic representation in the traditional Valencian Spring festival called 'Fallas'. Although these artistic statues are built during the peak week of the festival by the different local neighbourhood associations (the traditional bearers of this festivity), students also build their own Fallas statues in arts related subjects at local primary schools.
This favourable environment for ICH reinforces the safeguarding of this cultural representation in terms of passing on traditional local knowledge, raising awareness among students about the values embedded in these statues by the local neighbourhood associations, and more broadly is a specific example of praxes of coexistence in a cultural diverse Europe.